To use this add-on, first make sure GP Premium is installed, and that the add-on is activated.
Once activated, you can find the Background options in Customize > Background Images.
Once the Background Images panel is open, you'll see a list of sections for each element on your website.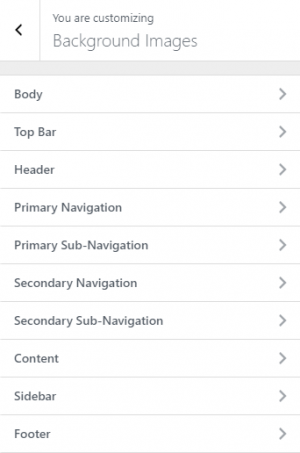 Each section has background options for the selected element.
Repeat
Choose to repeat the image, usually good for patterns or gradients.
Repeat – horizontally and vertically
Repeat x – horizontally
Repeat y – vertically
No repeat – don't repeat
Size (Auto)
Size (Auto) – The background image contains its width and height
100% Width – The background image will be 100% wide, and the height will adjust to keep the aspect ratio
Cover – Scale the background image to be as large as possible so that the background area is completely covered by the background image.
Contain – Scale the image to the largest size such that both its width and its height can fit inside the content area
Attachment
Attachment – The background scrolls along with the element
Fixed –  The background image is fixed and won't move as you scroll
Local – The background scrolls along with the element's contents
inherit – Inherits this property from its parent element
Position
Please refer to this article to understand the position field.